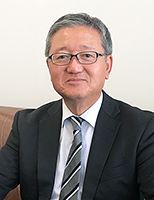 In 1930, KANSAI MATEC Co., Ltd. started production and supply of this material as the company's pillar. Since then, we have been trying to provide a higher yet stable quality of this product. As a result of our resilience, the New Kansai International Airport Company, Ltd., trusted us with the first construction of the Kansai International Airport, which gave us a higher reliance as well as valuation.

Even now, we are providing aggregate stably in the Kansai and Shikoku area,as one of the core producer of TAIHEIYO CEMENT Group in the western part of Japan. Furthermore, while our company seeks for a good aggregate production, we are developing new technology and materials one after another based on relevant technical skills. Which has linked to industrialization.
We put our energy into manufacturing and selling of the Super Mill along with ceramics and high quality building materials, Wollastonite. Furthermore, KANSAI MATEC Co., Ltd. will continue to undertake new challenges to achieve our dream as an high-spirited company.




KANSAI MATEC Co., Ltd. set up "Intelligence, Harmony, and Challenge" as a management concept to keep this beautiful nature and contribute to a rich country construction.


Intelligence means ability to think with rich creativity
Harmony means mind to respect and accept each other with improving mutually
Challenge means strong spirit to try and promote with driving force



KANSAI MATEC Co., Ltd. continues to endeavor to gain customer's satisfaction and trust based on a management concept.
The stable supply of the basic construction materials and raw materials for building products based on "Quality First" concept.
We will make efforts to secure strict quality control of our products in response to user's requirement and gain better customer's satisfaction.
The creation of new value and improvement of technical development
We will make efforts to reinforce a new-materials development (diversification management) taking advantage of the technical development strength.
Compliance
We will act in an ethical manner and follow the laws and regulations of those countries which we operate.
We are committed to creating sustainable value for our shareholders by generating synergies as one of the member of Taiheiyo Cement Corporation group.